Our Story
Aveley Ranch was established in 1906 when our grandfather homesteaded in the North Thompson Valley. He introduced sheep to the ranch in 1913. Carving out a home in the wilderness. Tam Moilliet was ready for his bride when she arrived from England in 1909. Mary braved blizzards and canoeing the North Thompson River to birth and raise her family. On the premature death of her husband, her 16 year old son, John, managed to develop what his father began– Aveley Ranch; a peaceful natural setting where hard work produces abundance from the land. The Moilliet family has always worked together, teaching skills to the younger, respecting the wisdom of the older. Keeping with family tradition, Grandfather's third and fourth generation continues to shepherd and nurture the flock through life's seasonal cycle.
History of Aveley Ranch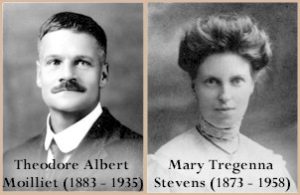 Theodore Albert Moilliet, founder of Aveley Ranch, emigrated from Worcestershire, England to Ontario in 1899 at the age of sixteen. After threshing his way west across the Canadian prairie, he worked for one year at an electrolytic lead refinery in Trail, BC. There he contracted lead and mercury poisoning and pleural pneumonia. Heeding medical advice that he move to the drier climate of the interior of Kamloops, BC. After several years working on ranches and convalescing in the upper Okanagan region, the North Thompson River beckoned, and he joined a survey crew headed for its upper reaches. Having run out of all provisions except pickles and white flour long before regaining civilization, a number of expedition members failed to survive.
Download a history of Aveley Ranch and the challenges of operating a sheep ranch. (.pdf)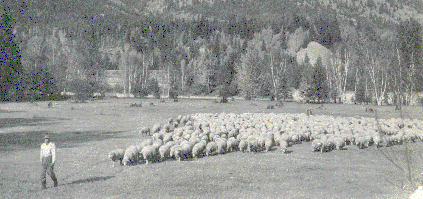 One hundred and thirty-five miles north of Kamloops, TAM, as he became known, discovered a beaver meadow along the North Thompson, and opted to spend the winter there. After having scythed a stack of hay for his horse and begun construction of a cabin, he was besieged by a freak fall flood which washed his haystack thirty-five miles down river. He built a raft from his cabin logs and followed his haystack 'down to a good country', filing homestead applications on 320 acres by 1905.
He returned briefly to England to become engaged to Mary Tregenna Stephens and, now aided by his uncle and his brother, continued filing and 'proving up' on quarter after quarter of land. In 1909 Mary came to Canada, meeting TAM in Kamloops where they were married. In 1913 he purchased his first flock of fifty ewes from north of Kamloops. Thus began the history of sheep on Aveley Ranch, which are now supporting the 4th generation of Moilliets, with a flock of 1300 breeding ewes.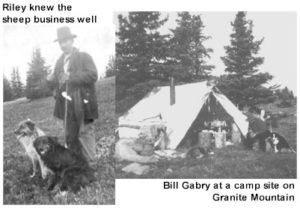 Of course there were others who contributed to the building of the ranch – the shepherds.
Riley M. LaDow was a shepherd at Aveley Ranch from 1918 to 1933. Also worthy of note was Bill Gabry who lived on the ranch and herded sheep for close to 30 years. He was an inventor amongst many other things and perfected two humane traps to catch fur-bearing animal. He had an ingenuity and ability to fix 'anything'. Bill lived his life out on the ranch.
It started out as a family operation and still is, though without the help of so many wonderful shepherds and farm workers over the years it would probably not be in existence today. Even though much has changed over the years since TAM first homesteaded in the valley, much has also stayed the same.