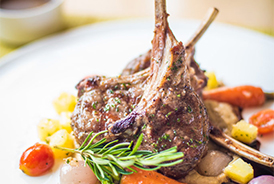 How We Grow Lamb
Aveley lambs are born through the month of April and then go out to fresh spring pasture with their mothers, only weeks later. Having a broad and diverse selection of over 20 different species of forage, absolutely no grain, and of course, lots of rich milk from their mothers, ensures healthy animals with meat extremely high in omega-3 and CLA fatty acids, Vitamin E and Beta Carotene. These super health benefits are found in very low to non-existent levels in grain finished lambs.
During the summer months, the lambs visit the beautiful alpine meadows of our mountain range where they are protected from predators by guardian dogs and skilled shepherds as they graze the rich alpine salad bars of native fireweed, valerians, and lupine. These high elevation forages have been proven to produce higher levels of CLA fatty acid in the animals that graze them than low elevation forages.
We do not feed any growth hormones of any kind, or grain as mentioned above, and although we administer antibiotics and parasite control products, we do so selectively and sparingly, all the while striving to prevent health problems rather then just treating them.
We believe that the extremely nutritious and natural green diet that we provide our lambs not only offers the customer an incredibly healthy and nutrient dense food, but also an exceptionally tasting meat full of tenderness, flavor, and quality.
Ordering Fall Lamb
Lambs are butchered from September through November when they are properly finished. Orders can be made on our order form and should be placed before September 1st to ensure availability of custom cut options. However orders can be placed up until November 1. Standard cut lambs and individual cuts are available throughout the year as long as supplies last. Once we receive your order we will send you a confirmation e-mail and let you know when your lamb is ready for pick up or arrange delivery if possible.
Whole lambs may have each side divided and packaged separately for no extra charge, but the cutting specs must be the same for each side (only one option may be chosen for each cut section).
If you wish to order a half lamb (side) you may do so on our ordering form but only one option from each cut section may be chosen.
Prices and Weights
Weights are taken on the dressed weight (after butchering and before aging, cutting, deboning and freezing), there will be some weight difference between the dressed weight and the packaged weight. Our butchered/dressed lambs weigh any where from 35lbs to 55lbs, but typically average around 40lbs.
For speciality orders please call us at 1.250.676.9574 or email sales@aveleyranch.com.
Lamb Order Form
Can't get enough of your favorite cuts? Check out our selection of individual lamb cuts. If you wish to add additional cuts to your order, specify in the Special Instructions box on your order form above.
With the purchase of a whole lamb, receive a 10% discount off the retail price of any additional cuts of lamb.